Fresher week, welcome week, orientation week…they're all popular names for that special week where you experience the true meaning of the words;  independence, intoxication and in-debt! (Just try and avoid having to Google infections after the week is over!)
We've boiled down the masses of information available to you out there and decided to cut out the common sense 'tips and things to remember'…we'll let your parents remind you to take an alarm clock! It basically comes down to 3 simple categories: Money, University, Frolics and Fun…but we prefer the acronym 'M.U.F.F' much better!
Money:­ Use your student status to the max!
This is the one time in your life that you get to be a student! A university student at that and us students are smart*, so don't be a dumbass by missing out on chances to squeeze out every last beneficial drop that your student status has to offer!  Here's how to be a smartass;
Open a student bank account with 0% interest on your set overdraft – this will come in handy for any emergency purchases or those direct debits that you'll forget about coming out of our account each month!
Ask for discounts! This mainly applies when out shopping, a whole range of high street retailers offer discounts for students and even if they don't just ask and use that persuasive charm of yours! (Many retailers only offer discounts for NUS Card holders, but it's not mission impossible to get that same discount with a standard student card. Online shopping is a little trickier as they require  your NUS number)
Get your free Cheeseburger, burger or McFlurry at McDonalds when you order any meal! You can stuff your face or give it to your hungry mate who's maxed out their overdraft.Travel smart! If you're going to be travelling a lot purchase a 16- 25 railcard. It cuts a third off the price and only costs £24 yet if you're an existing NatWest customer you can get it for free!
Go to a gym that offers student rates! It's a great way to work off all those free cheeseburgers and get fit as foooook! Many gyms now offer student memberships that don't tie you into a long term contract, more of a month-to-month plan. So when you head home for Christmas, no problemo amigo! University gyms also offer great rates but often tie you in to long term contracts and they can get really busy!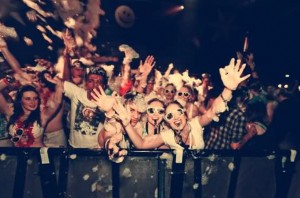 University: Sign on the dotted line
It's fresher's week and that means you're at university and that means there's a slight degree of boring paperwork to get done. DO IT! Things to cross off:
Attend lectures and meetings, they'll tell you all you need to know and lots of things you don't need to know!
Sort out your student ID, send in that lovely picture of yourself and any additional details and you're done!
Sort out any additional cards e.g. library cards
Sign up for any teams and societies, best way to meet loads of new people… Oh and if you're going for a trial for a sports team just don't do what my mate did and turn up to the trial for the wrong university! Top tip!
Attend the fresher's fair you'll get free stuff and you'll find out what's going on during fresher's (you'll probably be able to cross off the above point there too).
That's basically it! Now you can get onto the next most important section…
Fun and Frolics: The best part of M.U.F.F!
#1 Prink!
We don't need to tell you how to predrink, but we should warn you that when you start university you'll learn how to master the art of the predrink…or at least that's the idea!  Drinking games galore, crazy house rules, dares and contests; they're all going to be abundant come fresher's week!  All this will help you save that precious loan and get you nicely on your way too! Never underestimate the power of the predrink!
#2 Sex
Imagine a doorstep…imagine your own doorstep…now imagine shitting on your doorstep. It's not the best idea is it? No matter how perfect that doorstep is, don't pop a squat on it.  Following still? Basically we're suggesting that you don't sleep with any of your flatmates, it normally makes the rest of the year more than awkward. Especially if you put a bad performance in! Yet, saying this it's not the end of the world if you can't resist dropping your pants for them, you might just brush it off, you might become best fuck buddies or you might have drunkenly found the one! Either way YOLO you'll be fine. Just don't be thick and wrap that dick!
#3 Get Social!
Fresher's week is all about people getting to know each other, you're all in the same boat and you don't want to be a social recluse! Jumping in the deep end and saying yes is our best advice! It's all about making a good first impression, we're not saying don't be yourself, we're just saying don't hold yourself back! Saying yes to flat parties, introducing yourself to people on your floor and keeping your flat door open are all small things that will break the ice and make a big difference!
#4 Explore
The best way to settle in somewhere is to know the area, get you and your new mates out of the flat and go explore the city/town/countryside, wherever! The thing is it not only helps you know your way around it also means it becomes your new home faster. Plus a nightout is always better once you know the area and the top places! For you lucky lot living in Newcastle here's a day-to-day guide on the best places to go throughout the week.
And that sums up our basic guide to fresher's week! Don't take it too seriously, that's what the exam period if for! Just remember: M.U.F.F you know you love it!
Enjoy The Article? Why Not Join Us For Exclusive Extras!?